A couple of times a year a man and/or a woman generally go to a formal event and needs to wear a tuxedo. There are many choices of Tuxedos and the question that is typically asked when visiting a store that sells tuxedos is should I wear a white tuxedo or a black tuxedo? There are some things to consider when making this choice:
• What type of event am I going to?
• Is there a color theme for the event?
• Do I look better in black or white?
• Is there a price difference in choosing a white one over a black one?
• What time of year is it?
• Will I buy a Hugo Boss Tuxedo?
• Does it need to be a double breasted tuxedo?
When I hear the term black tie event, what comes to mind for me is a handsome man, wearing a black tuxedo with matching bow tie stepping out of a limousine and heading to his event. This picture is very clear in my mind.
After seeing movies such as an Officer and a Gentleman seeing men wear white suits and white tuxedos also come to mind. The color white exudes elegance, clean lines, and also a special evening. If you are at an event and you spill a glass of white wine on your black tuxedo it would not be as noticeable as if you are wearing the color white. White tuxedos look great but can be very difficult to keep clean.
When I think of the Caribbean and a summer formal events I think of white tuxedos as they would be cooler. My brother got married in St. Thomas and looked oh so handsome as as he said his lifelong vows to his wife. Another brother also wore a ivory tuxedo on his wedding day and looked equally as handsome.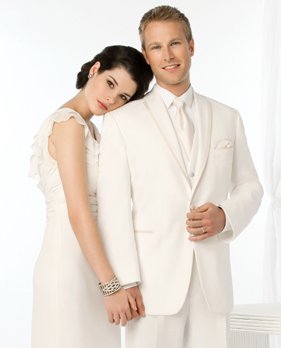 My advice is to try both of them on before making your choice. Bring someone whose judgment you trust with you and they will let you know what looks best on you. Your skin tone will also play a part in how black or white look on you.